Black World Map – Classic Frame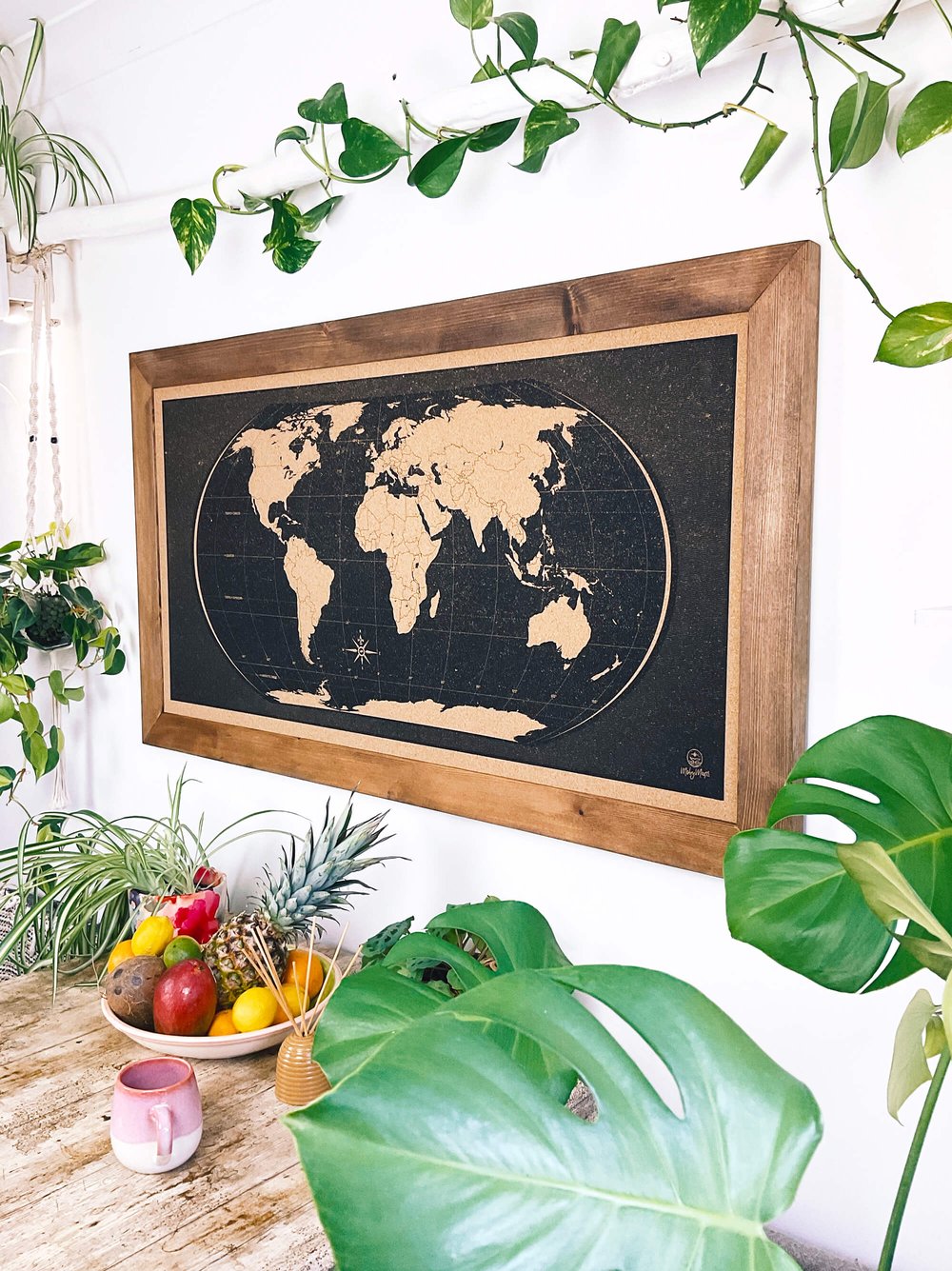 This map was an original prototype. It's not quite right, hence the discount. The frame isn't quite the right size to the artwork, leaving a narrower margin down the right-hand side (than the left, top, and bottom), between the black print and the frame. Other than this, it was a perfect print and a nice frame.

The Classic Frame
Four pieces of reclaimed British Pine with mitred corners, joined solidly with wooden dowels, make for a sturdy strong frame. Unlike most of our frames, this one is mounted from behind (like most artwork is) — usually our prints are mounted from the front as part of our signature style. We use sustainably produced FSC certified wood from British forests, finished with a pleasing stain.
The Print
The meticulous design may go unnoticed, but these are skillfully and individually hand-pulled silkscreened maps, printed using water based inks for the finest detail and brightest colours possible on 100% sustainable cork, with a recycled pin-retaining softboard core. Designed with no location names our world map simply shows the longitude, latitude and equators, with country borders printed as finely as possible – so that at a distance you won't notice them, and up close you can see each country. They also feel great!
The Size
At 136cm x 76cm x 4cm (53.5" x 30" x 1.5") and weighing around 11kg, they're solid but not heavy! They come with brass wall mounts, two screws and two wall-plugs to securely hang on a solid wall, PLUS 25 white flag pins to get you started, and if you're an avid traveler you may want add few more to the order!
Shipping within 24hrs for 1-3 day delivery – in the UK!
Shipping Fees
See FAQ's page for more info.
For more information
See our Frequently Asked Questions on the FAQ's page.
Share